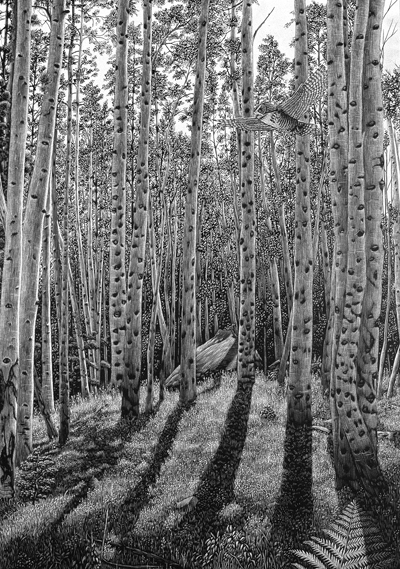 Untitled With Owl (15″x28″) 2000
A look at 20 years of scratchboard fine art drawings and my approach to my favorite drawing technique.
My favorite traditional drawing medium is scratchboard. Part ink drawing, part engraving, this subtractive drawing method gives a dramatic feel reminiscent of the woodcut engravings that were the standard illustration technique for most printed matter before the invention of the photographic halftone. Unlike an engraving, though, each scratchboard drawing is a one-of-a-kind original ink drawing.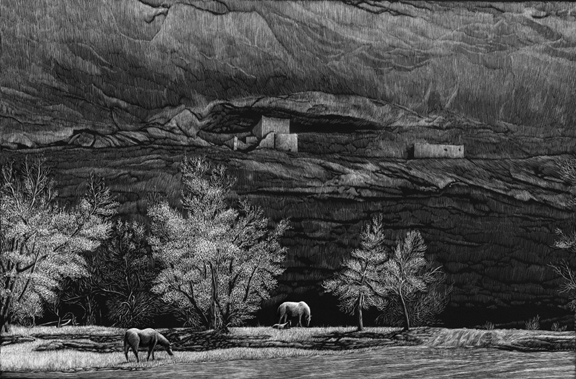 Canyon De Chelly (20″x15″) 2003
It starts with a board, cardboard or masonite, coated with a white, chalky clay. Black ink is then applied over this with a paintbrush or an airbrush. When the ink is dry, a sharp tool is used, in my case an X-Acto knife, to scratch through the black ink, revealing the white clay beneath. So, instead of the usual way of drawing dark shades with a pencil or pen, you are drawing the highlights. This medium allows for a high degree of detail and realism.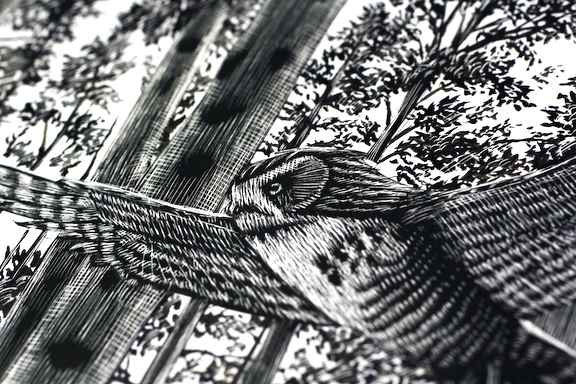 Untitled With Owl (detail)
Most scratchboard artists like to draw animals. The fine white line lends itself well to the rendering of hair and feathers. Dramatic portraits of tigers, wolves, zebras and birds are favorite subjects of scratchbordeurs. (I just made that word up… scratchboardistas would work too I guess). I've done very few animals this way, my main focus has been on landscapes. It's a rather difficult subject to draw this way and not very common, but I think it's ideal for drawing the different textures of rock, gravel and foliage.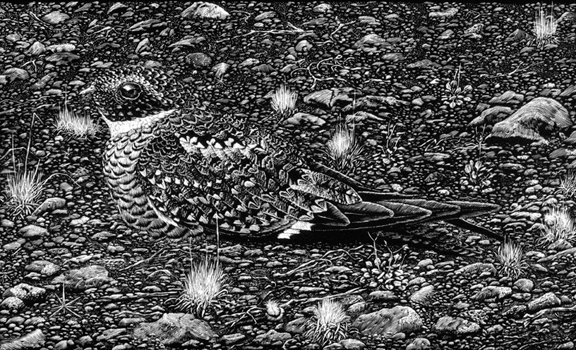 Nighthawk (16″x12″) 1995
I experimented a bit with it in high school and later, art school, but only as an assignment. I liked it, but preferred painting with brushes and airbrushes. I focused on wet media and never gave scratchboard much thought until very shortly after I graduated from art school and began going on desert excursions with a photographer friend who liked to shoot petroglyphs. I became fascinated with these ancient artforms and would eventually become actively involved in the research and preservation of rock art, which will likely be the subject of many future blog posts here.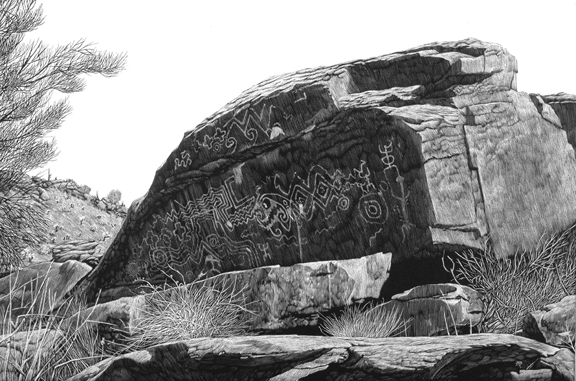 South Mountain Petroglyphs (20″x15″) 1996
On a whim, I entered a competition sponsored by the city of Mesa, Arizona which called for artists to present desert-themed black and white artworks for a calendar. I decided to draw a petroglyph site with a crow quill pen. The resulting drawing was OK, but it didn't really capture the feeling of the site like I wanted it to.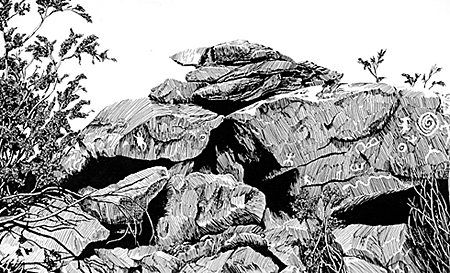 Pen and ink calendar art. 1989
A dark mineral patina grows on rocks exposed to the elements, especially in the desert. This "desert varnish" coats light-colored granite, schist, sandstone and other rock with a dark coating. Ancient artists all over the world realized that drawings made by painstakingly removing this patina, by chiseling and pecking with another stone, an almost permanent mark could be made on the landscape. I was only halfway done with my calendar drawing before the light bulb went off in my head that scratchboard, not pen and ink, was the only appropriate way to draw a petroglyph. So, I entered two drawings in the contest, an ink drawing and a scratchboard. The ink drawing won honorable mention, but the scratchboard won first prize and was featured on the cover.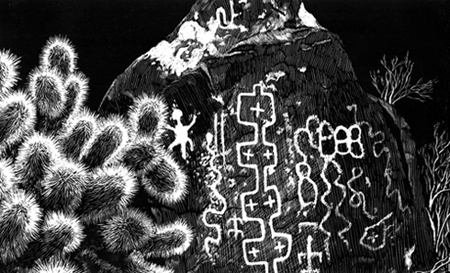 Scratchboard calendar cover art. 1989
Looking at it now, I'm amazed at how crude it is. But I had fun with it. I wanted more. I went to the art supply store and I bought the biggest boards I could find and began drawing landscapes based on photos I took at the many petroglyph sites I visited. It became my late-night pastime. I rarely painted for fun any more… The clean, dry medium lent itself well to working on any time I felt like it. Over the years, I refined my technique and accumulated a small collection of pieces that, until recently, were never shown except to friends and family.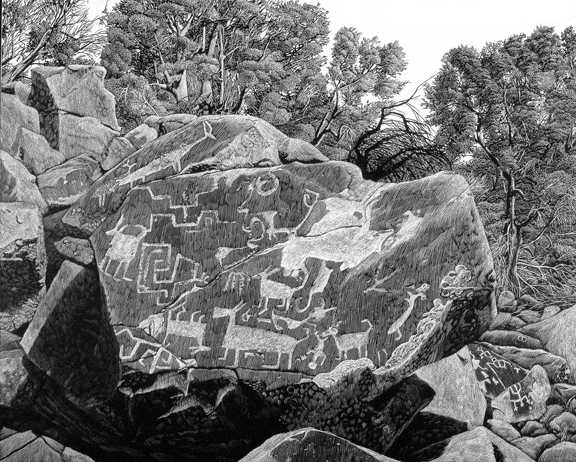 Nuvakwewtaqua (19″x16″) 1991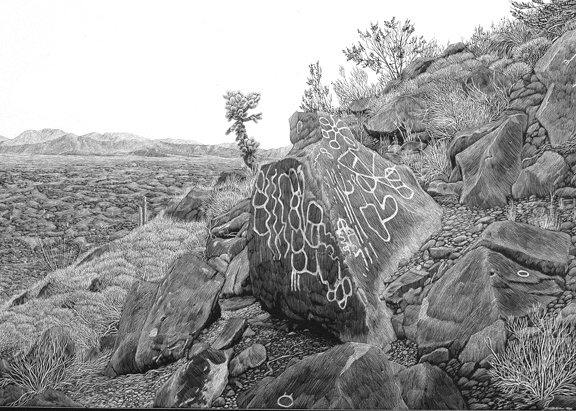 New Water (20″x15″) 1992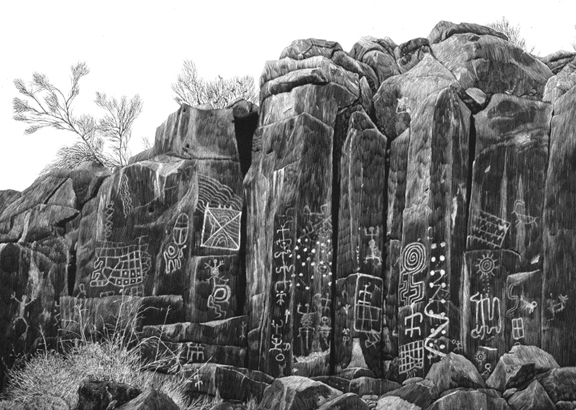 Gila River Petroglyphs (20″x15″) 1994
Boards are available either inked or not. Since my landscapes have large white areas of sky, I usually get the not-inked 15 x 20 inch Canson scratchboard and use airbrush frisket to mask off the areas I don't want inked. I use a Badger spray gun to apply the ink, usually Higgins Black Magic. Branches and leaves are painted on with fine sable brushes after the masking is removed. By alternating painting and scratching when drawing branches, the illusion of depth is easily achieved.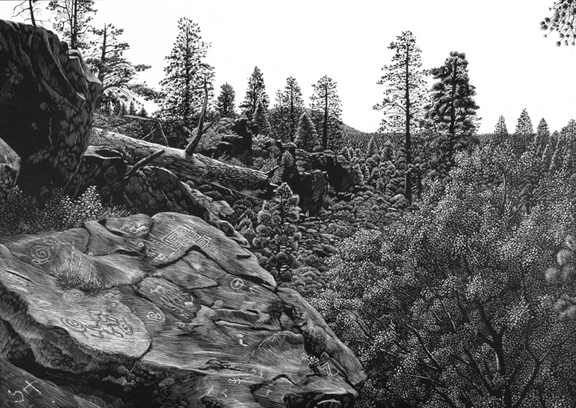 Picture Canyon (20″x15″) 1997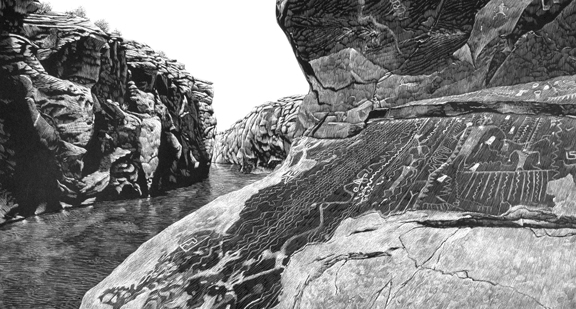 Chevelon Steps (24″x15″) 1999
In 2005, the "Chevelon" piece above was featured on the cover of a book of rock art papers published yearly by the American Rock Art Research Association called American Indian Rock Art. I designed the layout of the cover as well.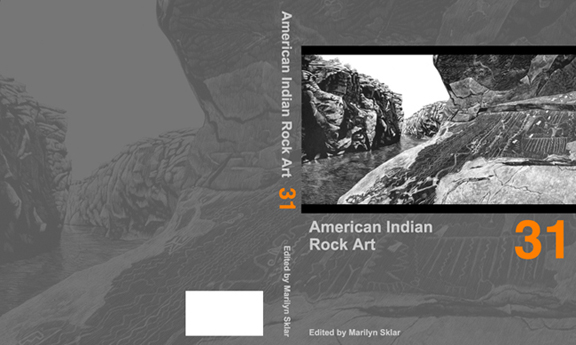 American Indian Rock Art volume 31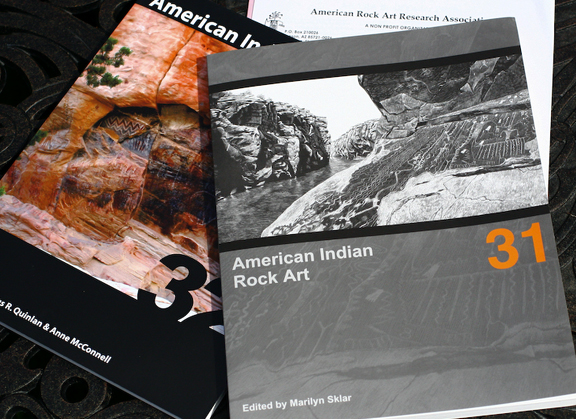 American Indian Rock Art volume 31
My most recent scratchboards have been on a smaller scale, since I prefer the Ampersand Claybord masonite boards now. I've also begun to explore other subject matter besides landscapes. My latest pieces, and my next planned ones, focus on old architectural details. Every piece I create is based on photographs I've taken at places that I have visited.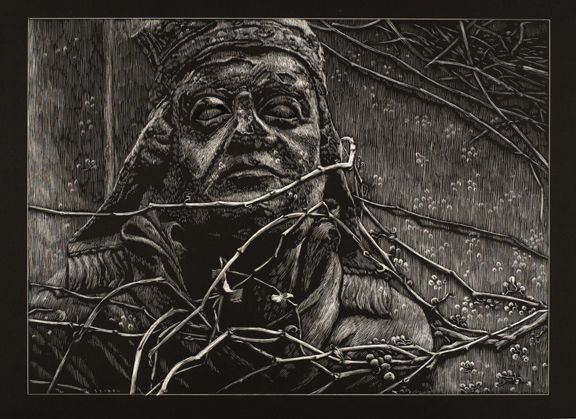 Westminster Man (14″x11″) 2005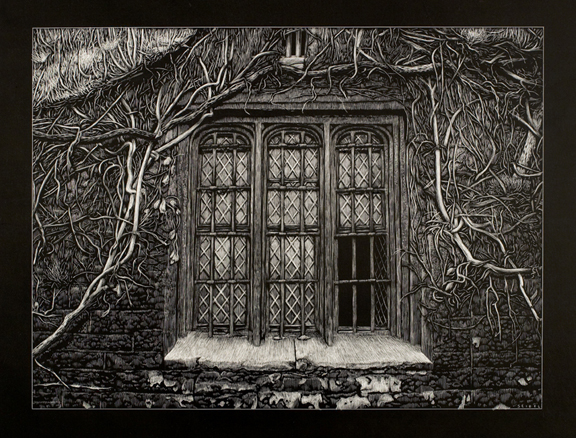 Westminster Window (16″x12″) 2007
I've only shown these in a few small, regional shows. One problem I've encountered is that they are so realistic from a distance, people automatically assume they are photos. I've put informational literature on the wall with the art, but a lot of people don't read it.
It's something I do for fun and for my own enjoyment, so exhibiting or selling these has never really been the goal. I always have one in my drawer in progress, and I have stacks of photos, sketches and notes for ones I plan to do in the future.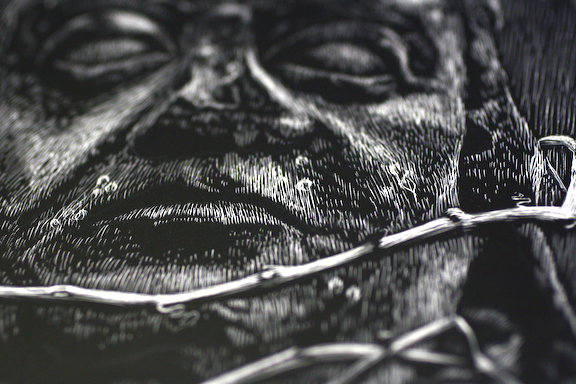 Westminster Man (detail)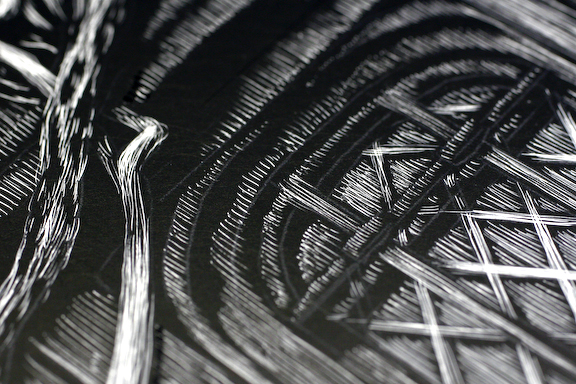 Westminster Window (detail)
In the above detail, you can see my graphite guide lines. Each drawing starts out as a full-size pencil outline, which is transferred to the inked board using home-made graphite transfer paper. The graphite linework is just visible enough to work with.
I've spun off my scratchboard techniques to illustrations, mainly for screen-printed graphics. I've also done a few portraits in this medium. I'll save those for future posts.