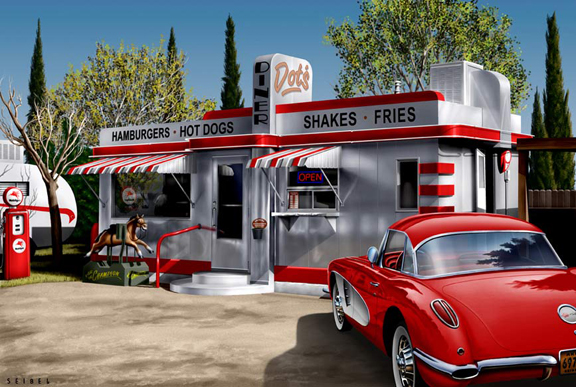 A short walk-through of a self-promo Photoshop painting.
The diner piece that I've used for self-promotion for the past three years was done mainly as an exercise in photo-realistic rendering in Photoshop, without the use of photographs, except as reference material. I've always enjoyed the photorealistic painters' work. Artists like Ralph Goings, Ron Kleemann, Richard Estes, John Baeder and others always impressed me with their ability to copy photographic detail in oil or watercolor.
As a commercial illustrator, I came kicking and screaming into the world of digital art but eventually adopted Adobe Photoshop as my new medium. With it, I can paint and airbrush just like in the analog world… without the space required, clean-up time and shipping or scanning of flat art… and with the amazing quality to undo my mistakes with a keystroke.
During the learning process of the last few years, (which continues to this day), the command and Z keys on my keyboard have become shiny with the polish of use resulting from the mistakes that lead to perfected technique. Hence, my screen name on the online message boards which I frequent is "Command-Z".
Enter a new breed of hyper-realist digital artists, chief among them Bert Monroy, whose art and books inspired me to tackle a project that would allow me to call upon various techniques that I could use to render different textures in a way similar to those I used with sable and Badger. The purpose of this piece was not to make a statement or make any great contribution to the world, it was simply to practice new techniques and use as a flagship for my portfolio. So those that don't "get" photorealism needn't explain to me why it isn't a valid art form and lawyers for General Motors needn't seek any compensation for the money I never made from this work.
I saved pictures as I worked and posted them to a message board for artists that I helped moderate at that time. Thanks to some Turkish hackers, that site no longer exists. So now, for the first time in three years, they are back for your enjoyment!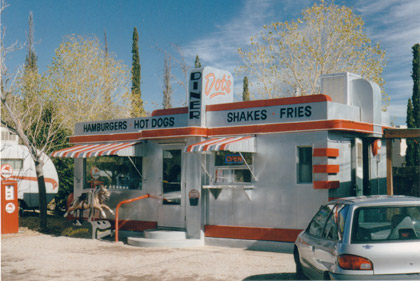 This is the original photo that I took of Dot's Diner, which is a good place to eat if you ever find yourself in Bisbee, Arizona.
I basically painted what I saw in the photo, which is what the photo-realists did, without using any part of the photo itself in the image.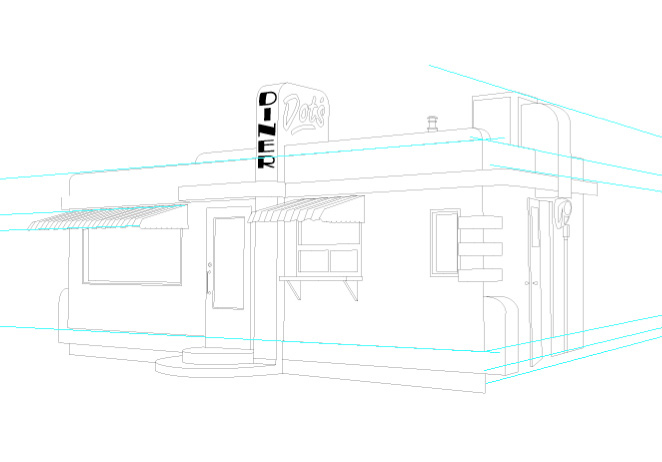 The drafting for the image was done in Adobe Illustrator. Tracing the photo with the vector lines makes the work easy, but in spite of what you hear, the camera does lie. The perspective guides in blue help correct any lens distortion.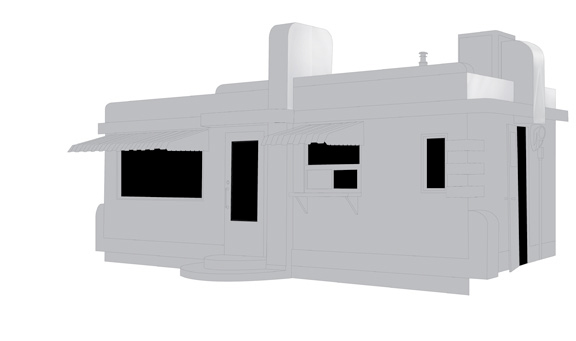 After exporting my linework into Photoshop, it's time for the fun part… the painting. I decided to try a new technique to me at the time, grayscale underbase painting with color overlays. I start out with a 50% gray and using white and black "paint", I only need to concern myself with light and dark values and use the X key to toggle between the two colors.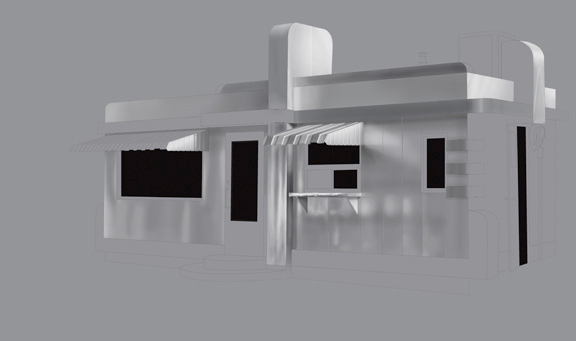 Lots of freehand airbrushing in the stainless steel part of the building.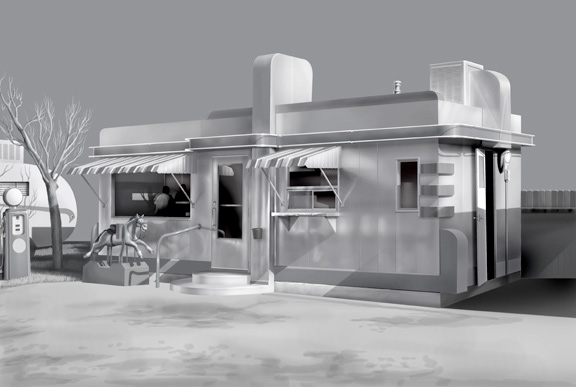 Here, I just started painting in the gravel driveway. Using a hard-edged brush, I dapple in darker values, then blend together with soft-edged brushes. A noise filter was then used to give a gravelly feel to the dirt.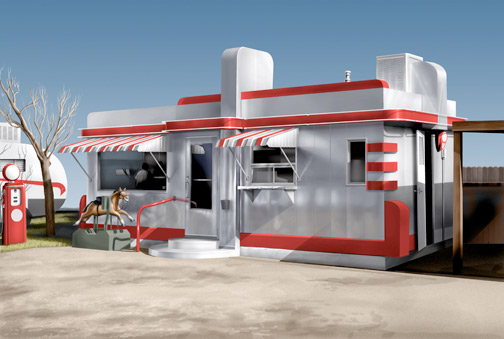 Now I'm starting to add color. A new layer set to "overlay" allows me to apply flat color areas and lets the tonal values of the underpainting show through.

Painting trees freehand with a variable-width brush. I use a Wacom tablet and stylus which allows me to vary the width of the stroke by applying pressure, just like a real brush or pen.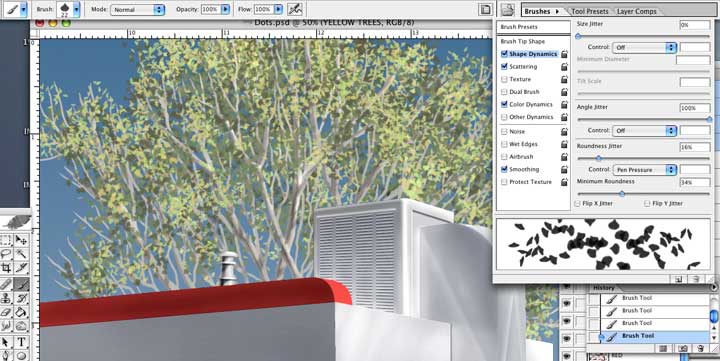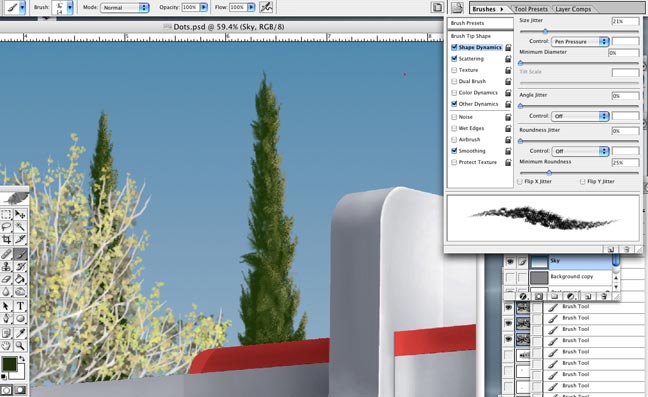 Leaves are painted onto the trees with custom scatter brushes. It's little tricks like this that make digital painting interesting.
Even with digital tricks and shortcuts, however, this piece still took many hours to complete. Like many artists, I'm thrown by the question "how long did it take?" I tend to lose track after 20 hours. I really enjoyed working on this piece… Since it was for myself, I had no deadline or revision process and was free to experiment and make lots of those good, valuable mistakes. After posting this piece to my portfolio, it indeed helped me get more work, which is what a self-promo piece is supposed to do. I've learned so much more since I did this one, though. It's time to do a new one I think.
You will hear about it here first, or course. Stay tuned…