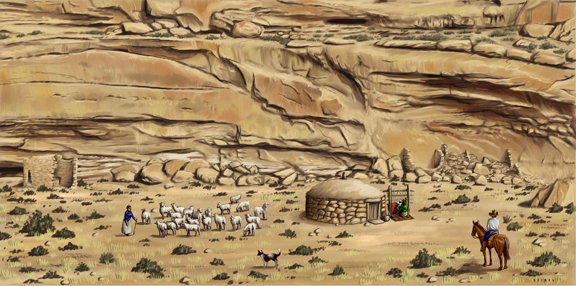 Here is another project for an outdoor educational exhibit for which I provided illustrations of a reconstructed archaeological site, this time in Chaco Canyon.
Read on…

For many years, I have been involved in an ongoing rock art recording project in Chaco Canyon, New Mexico. While attending recording session in the spring of 2006, I learned of an incident of vandalism of a petroglyph panel occurred at the park's campground.
Chaco Canyon is a very remote park, accessible only via long dirt roads, with only a campground available for overnight visits. The campground is in a side canyon of Chaco called Gallo Wash and contains a small prehistoric pueblo site as well as some rock art panels that are easily accessible. In May of 2006, a group from a private school on a camping trip visited the campground and a few students were caught vandalizing a rock art panel.
As part of the retribution, the parents of the offenders were ordered to pay for repairs. The damage to the panels themselves was too great to fix, so the money was used instead for educational exhibits to be placed throughout the campground. I was commissioned to illustrate a series of scenes showing the campground site as it may have looked throughout the past 1000 years.
The finished illustrations were created in Corel Painter, which allowed me to paint the background cliffs and superimpose a different foreground scene on each.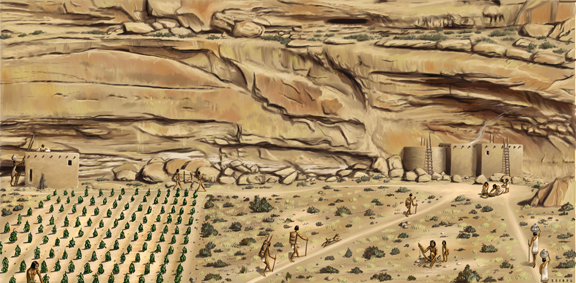 The first scene shows the pueblo during its habitation period by the ancient Anasazi farmers.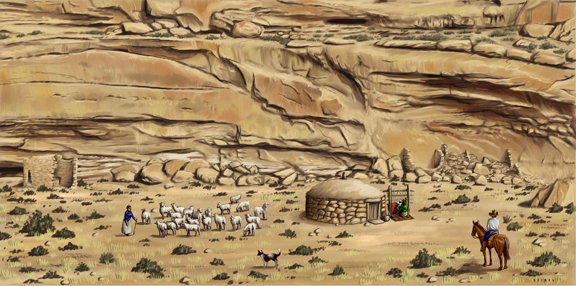 The second scene could be from the late 1800s or early 20th century and shows a Navajo dwelling, or hogan, and a family tending sheep, weaving blankets, and riding horses.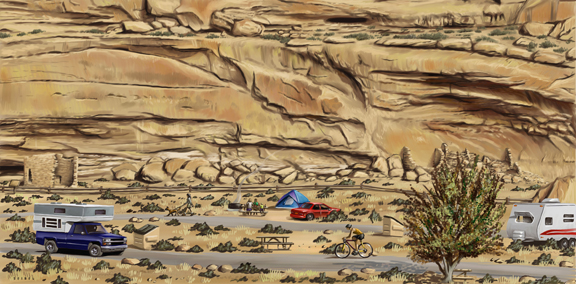 The third scene shows the campground as it looks today.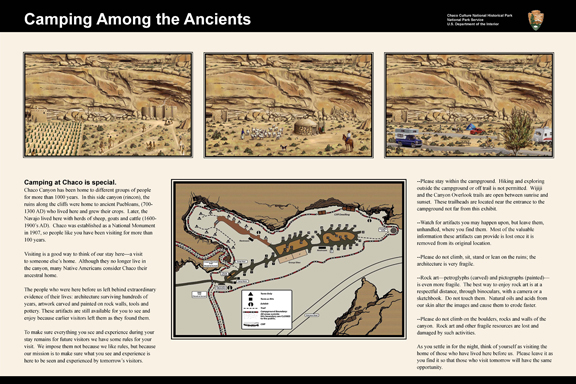 The triptych is shown together on an outdoor exhibit with the intent to convey a sense of the span of time for the place and let the viewer know that this is indeed a significant place, for many people, over many generations.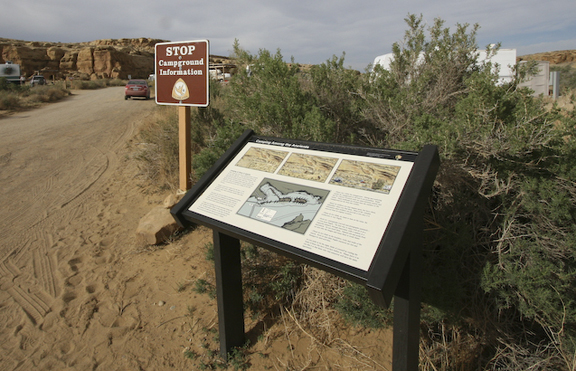 Installed in 2007, the finished exhibits are attractive, although perhaps, some think, a little too wordy. Oh well, what can one do when government bureaucrats assume the role of designer? Hopefully they will serve their purpose well.